Ok, so just a fair warning – this is going to be a sappy love post about my husband.  I've just been so overwhelmed with all of the feels lately – so grateful for the love we have for each other and the partnership we share.  So if you're ready for some mush, read on… 😉
The video posted above is a song that I kept hearing on the radio.  I don't listen to the radio very often, so I'd always just catch it in chunks, but the other day, I was able to hear it all the way through.  When I finally heard it start to finish, I just bawled!  I was on my way into work, and I was just a blubbering mess by the time I got there.  I got so emotional because the song makes me think so much of my Bu – my amazing husband and partner.  It's funny now – since I've heard it all the way through and become obsessed with it, I hear it all the time.  At least a couple of times a week to or from work, I'll hear it come on, and it still brings up all the feels about my amazing man.  Here are the lyrics:
"Say You Won't Let Go"
I met you in the dark
You lit me up
You made me feel as though I was enough
We danced the night away
We drank too much
I held your hair back when
You were throwing up

Then you smiled over your shoulder
For a minute I was stone-cold sober
I pulled you closer to my chest
And you asked me to stay over
I said, I already told you
I think that you should get some rest
I knew I loved you then
But you'd never know
'Cause I played it cool when I was scared of letting go
I knew I needed you
But I never showed
But I wanna stay with you
Until we're grey and old
Just say you won't let go
Just say you won't let go
I wake you up with some breakfast in bed
I'll bring you coffee
With a kiss on your head
And I'll take the kids to school
Wave them goodbye
And I'll thank my lucky stars for that night
When you looked over your shoulder
For a minute, I forget that I'm older
I wanna dance with you right now, oh
And you look as beautiful as ever
And I swear that every day you'll get better
You make me feel this way somehow
I'm so in love with you
And I hope you know
Darling, your love is more than worth its weight in gold
We've come so far my dear
Look how we've grown
And I wanna stay with you
Until we're grey and old
Just say you won't let go
Just say you won't let go
I wanna live with you
Even when we're ghosts
'Cause you were always there for me
When I needed you most
I'm gonna love you 'til
My lungs give out
I promise till death we part
Like in our vows
So I wrote this song for you
Now everybody knows
That it's just you and me
Until we're grey and old
Just say you won't let go
Just say you won't let go
Just say you won't let go
Oh, just say you won't let go
This morning right before I left for work, I got all OCD control-freak on Dustin, and I ended up leaving the house with an uneasiness – some "wifey guilt" as I like to call it.  He was making Cohen a PB&J for daycare, and I noticed that he put too much jelly on it, and if you put too much jelly, it all just squishes out the sides, and he makes a big mess with it, etc.  So as he was making the sandwich, I corrected him, and I told him he needed to use a little less jelly.  So as I kissed him goodbye and left for work, it brought about all that energy of me being this control freak who just nitpicks every single little thing and constantly nags her husband about what he does wrong.  And it's not really fair, especially not to Dustin who is such an amazing father, husband, and partner.
So on my way into work I was thinking, you know what, I'm going to type out this big sappy text to Dustin once I get to work, and I'll send it to him, apologizing for my crazies.  So often I tell him all the things he's doing wrong and try to correct him, and not enough do I tell him what he's doing right and what I love, adore, and admire about him.
As soon as I had that thought, I changed the station, and the next song on the radio was this song.  So I was able to listen to it all the way through, and of course, the tears just streamed the whole time.  Again.  I just get so filled with gratitude for the love I have for my partner and the love that he has for me, and at the same time, I also get filled with a little bit of guilt/pain/shame for all the times that I take it all for granted.  And life is way, way too short to take those sorts of things for granted.  He and I connect on so many levels, especially with our views on spirituality and what happens to us in the afterlife.  There's a line in the song that says "I wanna live with you, even when we're ghosts."  That line really hits home with me because I truly believe that this is not the first life that Dustin and I have lived together.  We've done this before, at least once, if not even multiple times in one way or another.  I believe that even when we leave this earthly realm, our souls will still be connected.  We share such a divine connection – there are the little synchronicities of where we almost read each other's minds, or he'll text/call me right as I'm about to text/call him.  We're so in tune and in sync with each other, and I'm really grateful for that.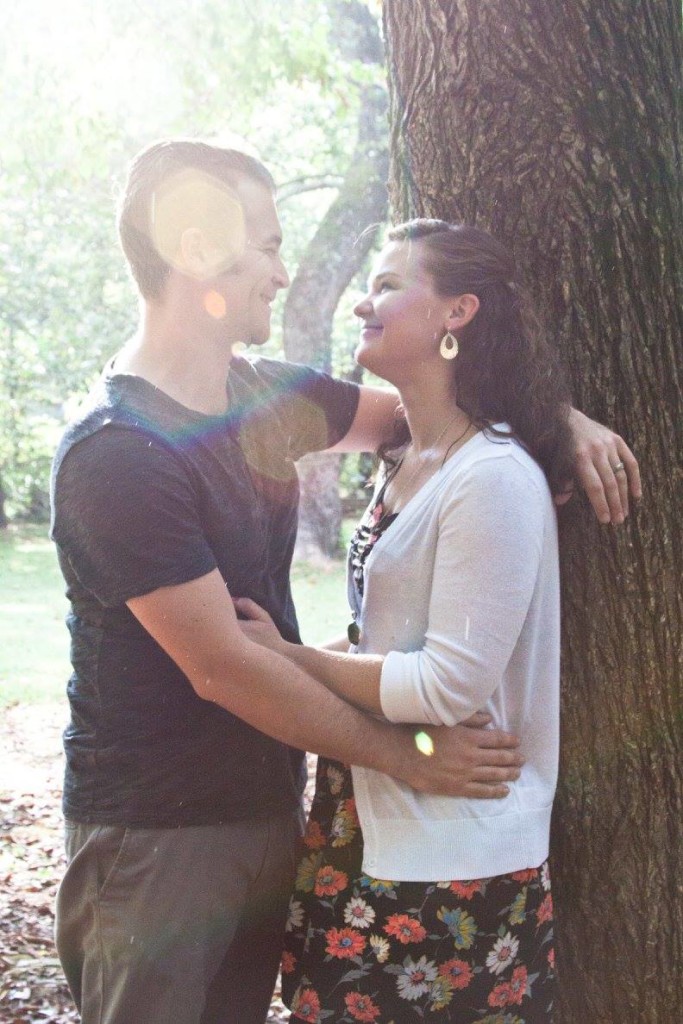 Dustin, my Bu, this is for you.  Just to remind you how much I do love you, even if I get annoyed over stupid silly things all the time.  You are an amazing partner, an amazing father to our children, and I just really couldn't ask for anyone or anything better.  I truly, truly mean that.  We've been through a lot in the last 5-6 years after leaving our home in Indiana and starting this journey together.  Most of the time, it's only been you and me.  We haven't had a lot of other people we could rely on, connect with, or lean on for support.  It's been you and me, and it will always be you and me.  And our boys, and anyone else who wants to join this crazy ride with us.  But honestly, I could not have gotten through the last five years without your constant love, support, and encouragement.  Thank you for all that you do for me and our family, and I'm sorry for any times that I take you for granted and make you forget how much I love and appreciate you.
<3 <3 <3
Told you it'd be sappy. 😉
Do you have someone in your life who needs to hear what Dustin heard from me today?  Make sure those around you know how much you love and appreciate them.  Life is way too short to not.
LOVE,
~Kim